24.02.16 14:54 Age: 2 yrs
Feb. 24 Violin Masterclass & Exhibition at Vancouver Symphony Orchestra
Category: Events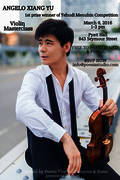 We are pleased to present a violin masterclass at VSO on March 6 from
1-3pm. The guest soloist is Angelo Xiang Yu who is performing
with VSO that weekend. He is also the 1st prize winner of the prestigious
Yehudi Menuhin Violin Competition.
In addition, we will be showcasing some rare 18-20th century violins and
violas and offer free appraisals of your instruments from 3-5pm.
If you or your students would like to attend or be a participant at this
rare free educational event, please contact us.
Feel free to forward this message to players and students who you think
might be interested. We hope to see many of you there!
---